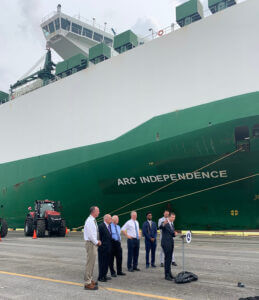 Baltimore, MD – On Thursday, July 29, 2021, American Roll-On Roll-Off Carrier Group was pleased to join Maryland Governor Larry Hogan and other state and local officials in welcoming U.S. Department of Transportation Secretary Pete Buttigieg to the Helen Delich Bentley Port of Baltimore. This was Secretary Buttigieg's first visit to a port and by extension, a U.S.-flag Roll-on Roll-off (Ro-Ro) ship. The M/V ARC Independence provided a great backdrop for the press conference.
Secretary Buttigieg, Governor Hogan and other officials spoke on the importance of investing in major infrastructure projects that will boost economic growth, expand capacity/business, and urged Congress to swiftly pass the recent bipartisan federal infrastructure package/agreement. Maryland Port Administration (MPA) Executive Director William P. 'Bill' Doyle thanked ARC and spoke to the importance of the U.S.-flag fleet and Maritime Security Program. Also in attendance were City of Baltimore Mayor Brandon Scott, Senator Chris Van Hollen, Senator Ben Cardin, and ARC President & CEO Eric Ebeling.
"Today's visit was a wonderful opportunity to show Secretary Buttigieg one of our nation's busiest and most productive ports, and to show how federal funding is helping us improve key rail and terminal infrastructure, generate thousands of jobs, and grow the economy," said MPA Executive Director Doyle. "Thank you very much to Secretary Buttigieg for visiting the port of Baltimore today" he continued, "We saw a lot here at the port related to imports and exports, containers and Ro-Ro. That's a Ro-Ro ship (indicating M/V ARC Independence). It's run by American Roll-On Roll-Off Carrier – ARC. The CEO, Eric Ebeling, is here. Thank you, Eric."
The Port of Baltimore generates about 15,300 direct jobs, with nearly 140,000 jobs overall linked to Port activities, and handles more cars, light trucks, and roll on/roll off cargo than any other port in the United States. It is the largest Ro-Ro port in the nation.
About ARC
ARC provides global logistics and shipping services to the U.S. Government. ARC and its U.S. affiliates own and manage the largest U.S.-flag roll-on roll-off (Ro-Ro) fleet. This includes providing American-owned, managed, and crewed Ro-Ro shipping and intermodal services committed to the requirements of the Department of Defense, other U.S. Government departments and agencies, and commercial customers.
For information on how ARC can handle your cargo and to contact us, please visit our website at: ARCshipping.com.
###