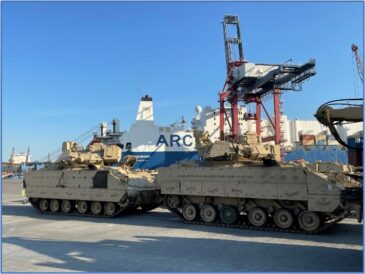 Gdansk, Poland – American Roll-On Roll-Off Carrier (ARC) transported the 1st Brigade, 1st Infantry Division on the M/V Endurance from Beaumont, Texas to Gdansk, Poland for their participation in Operation Atlantic Resolve with NATO allies. The shipment consisted of more than six hundred vehicles. The 1st ID is based at Ft. Riley, Kansas and is the oldest continuously serving division in the U.S. Army. It has seen continuous service since its organization in 1917 during World War I.
Brian Jones, ARC's Senior General Manager for Europe, Middle East & Africa, commented, "In addition to providing ocean transport on M/V Endurance, this deployment is our first as the prime contractor of U.S. Transportation Command's Gdansk Stevedoring and Related Terminal Services Contract (S&RTS). After weeks of planning with our local partner BLG Logistics, Surface Deployment and Distribution Command (SDDC) 838th Transportation Battalion stakeholders, and the Port of Gdansk, we are proud to have executed the discharge well ahead of the planned schedule."
The M/V Endurance is one of the most capable commercial vessels in the global fleet and one of five ARC ships capable of carrying V-22 Ospreys and aviation units in military sealift configuration. With a 320-metric ton stern ramp, a main deck height of 20.5 feet (6.25 meters), and 262,252 square feet of militarily useful capacity, the M/V Endurance is the perfect ship to handle brigade sized deployments.
About ARC
ARC provides Government Services including global logistics and shipping services. ARC and its U.S. affiliates own and manage the largest U.S.-flag roll-on roll-off (Ro-Ro) fleet. This includes providing American-owned, managed, and crewed Ro-Ro shipping and intermodal services committed to the requirements of the Department of Defense, other U.S. Government departments and agencies, and commercial customers.
For information on how ARC can handle your cargo and to contact us, please visit our website at: ARCshipping.com.
###