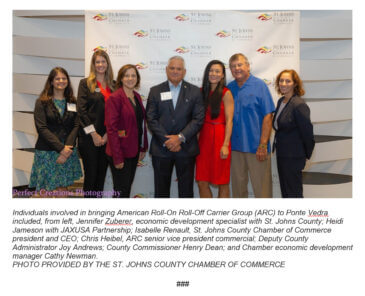 Ponte Vedra Beach, FL – As of Wednesday, July 7, American Roll-on Roll-Off Carrier Group will be in a new main office in Ponte Vedra Beach, FL.
The new headquarters address is:
American Roll-On Roll-Off Carrier Group
816 A1A N., Suite 101
Ponte Vedra Beach, FL 32082
All telephone numbers and email addresses will remain the same.
"We proudly welcome ARC to the St. Johns County community," said Joy Andrews, deputy county administrator for St. Johns County. "Economic development is unequivocally identified by the St. Johns County Board of County Commissioners as the highest priority, which was the exact principle our team operated on to collaborate with ARC, JAXUSA Partnership and the St. Johns County Chamber of Commerce. From the inception of this collaboration, we made a commitment with no ambiguity that we will be a resource for the ARC team and that no bureaucracy should stand in the way of our goal to bring such a high-caliber business as ARC to the community along with jobs for our local talent, which is, gratefully, what we are celebrating today."
More information is available at the following link:
https://pontevedrarecorder.com/stories/heavy-equipment-carrier-to-open-offices-in-ponte-vedra,12604?fbclid=IwAR3Ov91Qm8Zn4tv8wJyt6AMN7BKyD2mUDPJYh6B5t3LqdjtOeh7hr25pr44
About ARC
ARC provides global logistics and shipping services to the U.S. Government. ARC and its U.S. affiliates own and manage the largest U.S.-flag roll-on roll-off (Ro-Ro) fleet. This includes providing American-owned, managed, and crewed Ro-Ro shipping and intermodal services committed to the requirements of the Department of Defense, other U.S. Government departments and agencies, and commercial customers.
For information on how ARC can handle your cargo and to contact us, please visit our website at: ARCshipping.com.
###