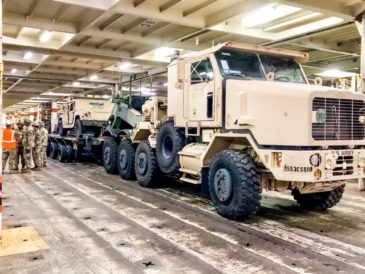 Parsippany, NJ – In early May, American Roll-On Roll-Off Carrier (ARC) loaded 769 pieces of 1st Cavalry Division unit equipment on the M/V HONOR at the ports of Bremerhaven, Germany and Gdynia, Poland. The cargo was loaded under liner terms by commercial stevedores, minimizing soldier exposure and risk to the COVID-19 virus, while ensuring their timely redeployment to Fort Hood, Texas.
The cargo had been used by units deployed in support of the Defender Europe 2020 exercises. Although the exercises, which had been slated to be the largest in Europe in over twenty years, were significantly curtailed by COVID-19, they were still some of the largest rotations in and out of Europe in years. "I'm very proud of ARC's ability to operate seamlessly during times of crisis" said Chris Heibel, Vice President and Head of Commercial for ARC. He added, "this is yet another great example of ARC's invaluable partnership with DoD."
About ARC
ARC is the largest U.S.-flag roll-on roll-off (Ro-Ro) carrier in international trade. The company provides American-owned, managed, and crewed Ro-Ro shipping and intermodal services committed to the requirements of the Department of Defense, other U.S. government departments and agencies, and commercial customers. For information on how ARC can handle your cargo, please visit us at: ARCshipping.com or send a message: contact form. For media inquiries, please send an email to media@ARCshipping.com.
####