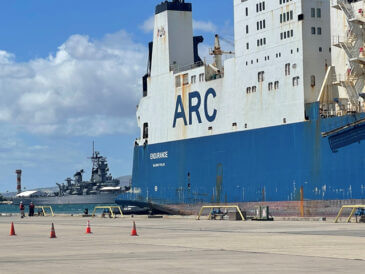 Pearl Harbor, Hawaii – American Roll-On Roll-Off Carrier (ARC) transported twelve V-22 Ospreys from the Marine Aircraft Group (MAG)-24 onboard M/V Endurance from Darwin, Australia to Pearl Harbor, Hawaii. The MAG-24 was redeploying after their six-month rotation supporting the Marine Rotational Force Darwin (MRF-D).
The April-October rotation deployed to train with Australian Forces to enhance interoperability and regional security, as well as demonstrate the enduring strength of the U.S.-Australia alliance. The movement included more than 250 pieces of equipment including V-22 Ospreys, AH-12 Super Cobras, and UH-1Y Huey Helicopters.
Ameed Micko, ARC's Vice President Defense Sales & Program Management, coordinated with Marco Arboleda of the Military Surface Deployment Distribution Command (SDDC) 599th Transportation Brigade and representatives from the MAG-24, and all agreed that the download efficiency was due in large part to the superior level of communication and advance preparation between all parties.
The M/V Endurance is one of the largest, most capable commercial vessels in the global fleet with a 320-metric ton stern ramp, a main deck height of 20 feet (6.25 meters), and 262,252 square feet of militarily useful capacity. Endurance is one of five ARC vessels certified to carry V-22s as well as CH-47s in sealift configuration.
About ARC
ARC provides Government Services including global logistics and shipping services. ARC and its U.S. affiliates own and manage the largest U.S.-flag roll-on roll-off (Ro-Ro) fleet. This includes providing American-owned, managed, and crewed Ro-Ro shipping and intermodal services committed to the requirements of the Department of Defense, other U.S. Government departments and agencies, and commercial customers.
For information on how ARC can handle your cargo and to contact us, please visit our website at: ARCshipping.com.
###