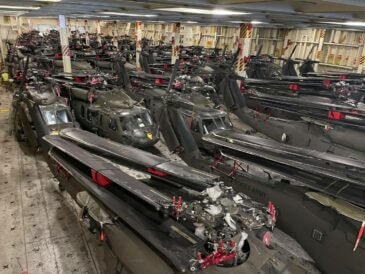 Beaumont, Texas – American Roll-On Roll-Off Carrier (ARC) loaded AH-64 Apache, UH-60 Blackhawk, and CH-47 Chinook Helicopters from the Fort Hood-based 1st Air Cavalry Brigade on board M/Vs Endurance and ARC Independence. The strategic sealift provided by ARC supports an upcoming rotational deployment to support NATO allies and Operation Atlantic Resolve.
U.S. Army Europe has led the Department of Defense's Atlantic Resolve land efforts by rotating units based in the U.S. to and from Europe since 2014. There are four types of U.S. Army Atlantic Resolve rotations: armored, aviation, sustainment task force, and division headquarters. Rotational units conduct bilateral, joint, and multinational training events across more than a dozen European countries.
The M/Vs Endurance and ARC Independence are two of the most capable and flexible vessels in the global fleet: Endurance has a main deck height of 6.25 meters (20.50 feet) and the ARC Independence has a main deck height of 6.50 meters (21.32 feet) – these capabilities enable the carriage of CH-47s (and V-22 Ospreys) in sealift configuration, and various other high-and-heavy and breakbulk equipment.
About ARC
ARC provides Government Services including global logistics and shipping services. ARC and its U.S. affiliates own and manage the largest U.S.-flag roll-on roll-off (Ro-Ro) fleet. This includes providing American-owned, managed, and crewed Ro-Ro shipping and intermodal services committed to the requirements of the Department of Defense, other U.S. Government departments and agencies, and commercial customers.
For information on how ARC can handle your cargo and to contact us, please visit our website at: ARCshipping.com.
###