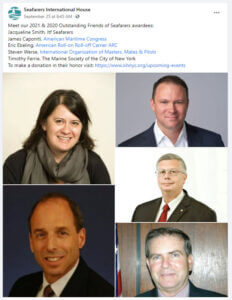 New York, NY – American Roll-On Roll-Off Carrier (ARC) was recognized as an "Outstanding Friend to Seafarers" by the Seafarers International House (SIH) at the Setting the Course ceremony and reception in lower Manhattan on Wednesday 6 October. The event recognized awardees from the 2020 calendar year that was delayed a year by the Covid-19 pandemic, as well as this year's 2021 awardees.
Eric P. Ebeling, President & CEO of ARC, accepted the award on behalf of ARC, and recognized the exceptional work done by SIH on behalf of all seafarers. Mr. Ebeling also noted the essential national security and economic security role played by American merchant mariners serving in the U.S.-flag fleet, as well as the increased challenges faced by all mariners given the Covid-19 pandemic, the resultant supply chain constraints, and related challenges.
Since 2001, the annual Setting the Course Banquet has been a major fundraiser for SIH and supports the Port Mission, the salaries of five chaplains in ports on the Eastern seaboard and subsidized lodging for seafarers in Manhattan. Selected with input from the Leadership Council, each year SIH honors shipping industry representatives who have significantly improved the welfare of seafarers. Since 1873, SIH has offered hospitality, social assistance, and advocacy to a multi-national and multi-faith community in maritime ports on the Eastern Seaboard and in New York City. During the Covid pandemic in 2020, SIH served a total of 19,746 people, including visiting 14,644 with restricted shore leave and transporting 1,351 seafarers.
Other awardees recognized at the event included James E. Caponiti, President of the American Maritime Congress (AMC); Steven E. Werse, retired International Secretary-Treasurer of the International Organization of Masters, Mates & Pilots (MM&P); Timothy J. Ferrie, President, The Marine Society of the City of New York; and Jacqueline Smith, Maritime Coordinator, International Transport Workers' Federation (ITF). ARC congratulates each of the other well-deserved honorees.
About ARC
American Roll-On Roll-Off Carrier Group provides Government Services including global logistics and shipping services to meet the requirements of the Department of Defense, other U.S. Government departments and agencies, and commercial customers. ARC and its U.S. affiliates own and manage the largest U.S.-flag roll-on roll-off (Ro-Ro) fleet.
For information, please visit our website at: ARCshipping.com.
###