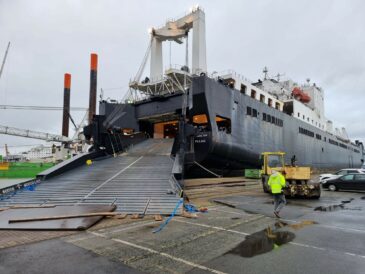 Gdansk, Poland – American Roll-On Roll-Off Carrier Group (ARC) provided stevedoring and related logistical support to the U.S. Military Surface Deployment and Distribution Command (SDDC) 838th Transportation Battalion at the Port of Gdansk, Poland.
The United States Naval Ship Pililaau, a Bob Hope-class Large Medium Speed Roll-On Roll-Off vessel, was selected to transport the 3rd ABCT, 4th Infantry Division for its return to Fort Carson, Colorado. A total of 933 pieces of military cargo were loaded onto the USNS Pililaau. The vessel is named after Private first class Herbert K. Pilila'au, a Medal of Honor recipient in the Korean War.
As the largest operator of U.S.-flag Ro-Ro vessels in international trade, ARC typically supports operations in the transatlantic trade and European theater through its fleet of eight U.S.-flag ships but through various contracts can also provide on-demand intermodal and logistics support including specialized vessel functions such as stevedoring and related terminal services for U.S. Naval Ships, as was the case for USNS Pililaau.
LTC JD Tillman, Commander, 838th Transportation Battalion, commented on how "pleased he was with the overall pace of the operation, specifically, the level of communication across several echelons of port entities to pull off such a detailed operation." The Port Support Activity from the 1-12th Cavalry was led by LTC Micah Smith, who stated, "it was really a pleasure to work with a team committed to the mission of getting U.S. soldiers and their equipment home to their families after a long deployment." ARC's Senior General Manager for Europe Brian Jones and Senior General Manager for Military Sales Ameed Micko were on site in Gdansk to lead the synchronization effort.
About ARC
ARC provides Government Services including global logistics and shipping services. ARC and its U.S. affiliates own and manage the largest U.S.-flag Roll-On Roll-Off (Ro-Ro) fleet. This includes providing American-owned, managed, and crewed Ro-Ro shipping and intermodal services committed to the requirements of the Department of Defense, other U.S. Government departments and agencies, and commercial customers.
For information on how ARC can handle your cargo and to contact us, please visit our website at: ARCshipping.com.
###