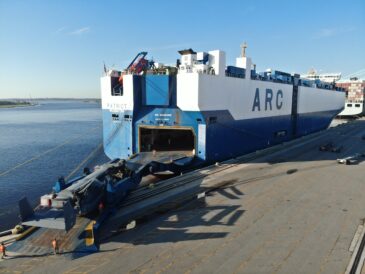 Jacksonville, Florida – American Roll-On Roll-Off Carrier (ARC) partnered with the Jacksonville Port Authority (JAXPORT) to facilitate the movement of several CV-22 Osprey aircraft for the U.S. Air Force Special Operations Command (AFSOC) at the port's Blount Island Marine Terminal earlier this month. AFSOC conducts global special operations missions ranging from precision application of firepower to infiltration, exfiltration, resupply and refueling of Special Operations Forces operational elements. These aircraft will be used to support military missions overseas.
U.S. Air Force pilots flew the Ospreys onto the port from Hurlburt Field, Florida. Stevedores with SSA Atlantic towed the aircraft onboard ARC's M/V Patriot.
 The South Carolina-based 841st Transportation Battalion and Virginia-based 597th Transportation Brigade – units of the U.S. Army's Military Surface Deployment and Distribution Command (SDDC) – coordinated the equipment's movement through the port.
The M/V Patriot is one of the most capable roll-on roll-off ships in the U.S.-flag fleet with an overall length of 653 ft (199 meters) and is one of only a handful of U.S.-flag Ro-Ro ships certified to carry V-22s and CH-47 helicopters in sealift configuration. The vessel has a stern ramp rated to carry loads weighing up to 240 metric tons (MT), a main deck maximum height of 21.32 ft (6.5 meters), and 165,121 square feet of militarily useful capacity.
About ARC
ARC provides Government Services including global logistics and shipping services. ARC and its U.S. affiliates own and manage the largest U.S.-flag roll-on roll-off (Ro-Ro) fleet. This includes providing American-owned, managed, and crewed Ro-Ro shipping and intermodal services committed to the requirements of the Department of Defense, other U.S. Government departments and agencies, and commercial customers.
For information on how ARC can handle your cargo and to contact us, please visit our website at: ARCshipping.com.
About JAXPORT
JAXPORT is one of the nation's 17 strategic seaports, which moved more than 2,200 pieces of military equipment, totaling nearly 23,000 tons during fiscal year 2022. JAXPORT is on call 24/7 to move U.S. Military cargo for national defense, foreign humanitarian aid and disaster relief, and is the only port in Florida with this designation.
###