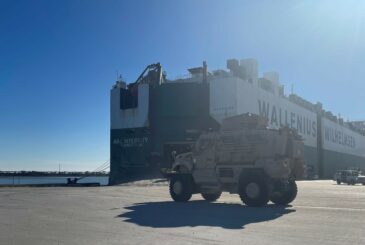 Joint Base Charleston, SC – In support of Operation Atlantic Resolve and as part of security assistance to Ukraine, American Roll-On Roll-Off Carrier (ARC) loaded nearly 800 pieces of military cargo at the direction of the Military Surface Deployment and Distribution Command (SDDC) 841st Transportation Battalion.
ARC continues to provide multiple support platforms in Europe to assist the US Military, allies, and partners. The Presidential Drawdown of security assistance to Ukraine and the European Peace Facility (EPF) have been at the forefront, delivering donated capability packages to the European theater.
The 841st Transportation Battalion Commander, LTC Rebecca D'Angelo stated, "the successful delivery of theater support equipment requirements is dependent on commercial industry's responsiveness and flexibility, and ARC has been there at every turn."
About ARC
ARC provides Government Services including global logistics and shipping services. ARC and its U.S. affiliates own and manage the largest U.S.-flag Roll-On Roll-Off (Ro-Ro) fleet. This includes providing American-owned, managed, and crewed Ro-Ro shipping and intermodal services committed to the requirements of the Department of Defense, other U.S. Government departments and agencies, and commercial customers.
For information on how ARC can handle your cargo and to contact us, please visit our website at: ARCshipping.com.
###