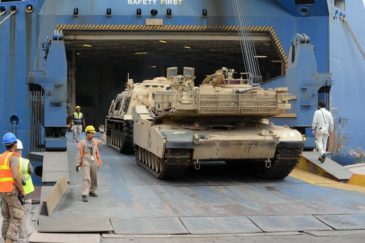 Shuaiba, Kuwait – American Roll-on Roll-off Carrier (ARC) Group's M/V Patriot discharged equipment for the 3rd Armored Brigade Combat Team (BCT), 4th Infantry Division at the port of Shuaiba.
The 3rd Armored Brigade Combat Team (based in Fort Carson, Colorado) is replacing the 155th Armored Brigade Combat Team, Mississippi Army National Guard as part of the regular rotation of forces in support of Operation Spartan Shield.
M/V Patriot was placed on charter to the Maritime Sealift Command (MSC) for sealift support of this unit move. The discharge was organized by the 595th Transportation Brigade and the loading operation in Corpus Christi was coordinated by the Army's 597th Transportation Brigade.
About ARC
ARC is the largest U.S.-flag roll-on roll-off (Ro-Ro) carrier, and the third largest U.S.-flag carrier operating in international trade. The company provides American-owned, managed, and crewed Ro-Ro shipping and intermodal services committed to the requirements of the Department of Defense, other U.S. government departments and agencies, and commercial customers.
For information on how ARC can handle your cargo, please visit us at: ARCshipping.com or send a message: contact@ARCshipping.com. For media inquiries, please contact Charles Diorio at (201) 571-0450 or cdiorio@ARCshipping.com.
###