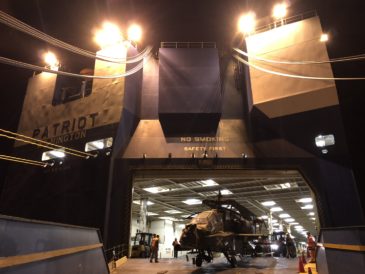 Thessaloniki, Greece – American Roll-on Roll-off Carrier (ARC) Group's M/V Patriot loaded equipment for the Army's 4th Combat Aviation Brigade (CAB) at the port of Thessaloniki.
M/V Patriot moved a mix of helicopters, vehicles, containers and support equipment used to take part in Operation Atlantic Resolve for 4th CAB, which is returning to Fort Carson, Colorado. 4th CAB is being replaced by 1st CAB from Ft. Riley, Kansas. Operation Atlantic Resolve has been ongoing in Europe since 2014.
"I am very impressed to see what a complicated logistical undertaking it is to bring an army unit like this one here to Greece" said Geoffrey R. Pyatt, U.S. Ambassador to the Hellenic Republic in a statement posted on the Embassy website.
About ARC
ARC is the largest U.S.-flag roll-on roll-off (Ro-Ro) carrier, and the third largest U.S.-flag carrier operating in international trade. The company provides American-owned, managed, and crewed Ro-Ro shipping and intermodal services committed to the requirements of the Department of Defense, other U.S. government departments and agencies, and commercial customers.
For information on how ARC can handle your cargo, please visit us at: ARCshipping.com or send a message: contact form. For media inquiries, please contact Charles Diorio at (201) 571-0450 or cdiorio@ARCshipping.com.
###