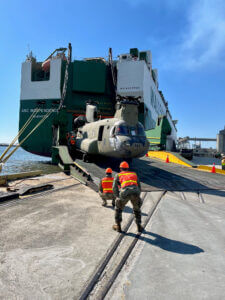 CHARLESTON, SC – The 841st Transportation Battalion, Surface Deployment and Distribution Command discharged 322 pieces of equipment from the 40th Combat Aviation Brigade, 82nd Airborne Division off the M/V ARC Independence at the Navy Terminal in Charleston, SC. The cargo included 33 helicopters of various types which were operating in the Middle East in support of Task Force Phoenix, Operation Inherent Resolve. The task force's mission was to execute air-ground operations in Kuwait, Iraq, the Eastern Syria Security Area, Jordan, and Saudi Arabia.
"Having previously served in the 82nd Airborne, it was an absolute honor to help this unit redeploy from their lengthy tour" said Ameed Micko, a retired U.S. Army Colonel and the General Manager of Military Sales at ARC, who was on site for the discharge operation.
The 82nd Airborne Division, also known as the All-American Division and America's Guard of Honor, is an active Airborne Infantry Division of the United States Army specializing in joint forcible entry operations. Based at Fort Bragg, North Carolina, the 82nd Airborne Division is the primary fighting arm of the XVIII Airborne Corps.
M/V ARC Independence is one of the most capable Roll-on Roll-off (Ro-Ro) ships in the U.S.-flag fleet with an overall length of 747ft (227 meters,) and is one of only a handful of U.S.-flag Ro-Ro ships certified to carry V-22s. The vessel has a stern ramp rated to carry loads weighing up to 240 metric tons (MT), a main deck maximum height of 21.32 feet (6.5 meters), and 198,000 square feet of militarily useful capacity.
About ARC
ARC provides Government Services including global multimodal logistics and shipping services. ARC's network includes the largest fleet of American-owned, managed, and crewed U.S.-flag Ro-Ro ships operating in the international trades and intermodal services committed to the requirements of the Department of Defense, other U.S. Government departments and agencies, and commercial customers.
For information on how ARC can handle your cargo and to contact us, please visit our website at: ARCshipping.com.
###