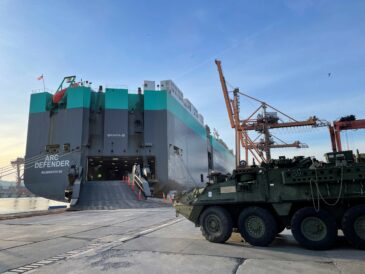 Gdynia, Poland – The U.S. Army's Surface Deployment & Distribution Command 598th Transportation Brigade loaded 284 pieces of equipment belonging to the Army National Guard's 3rd Battalion, 161st Infantry Regiment on the M/V ARC Defender at the Baltic Container Terminal in Gdynia, Poland. The 3rd Battalion will ultimately return to its home station at Camp Murray, Washington.
"It's very gratifying to use the M/V ARC Defender for the first time to carry Exercise Defender Europe cargo" said Brian Jones, ARC's Senior GM in Europe. The ship is the newest addition to ARC's fleet of U.S.-flag Ro-Ro vessels operating in international trade, having reflagged into U.S. registry in January 2022.
The 3rd Battalion completed a successful nine-month deployment to Europe in support of NATO's Enhanced Forward Presence (EFP) mission. The EFP mission is to enhance forward presence in the eastern part of the NATO Alliance, with four multinational battalion-sized battlegroups in Estonia, Latvia, Lithuania, and Poland on a rotational basis.
M/V ARC Defender is one of the most capable Roll-on Roll-off (Ro-Ro) ships in the U.S.-flag fleet with an overall length of 656 ft (200 meters). The vessel has a stern ramp rated to carry loads weighing up to 237 metric tons (MTs) and 167,271 square feet of militarily useful capacity.
About ARC
ARC provides Government Services including global multimodal logistics and shipping services. ARC's network includes the largest fleet of American-owned, managed, and crewed U.S.-flag Ro-Ro ships operating in the international trades and intermodal services committed to the requirements of the Department of Defense, other U.S. Government departments and agencies, and commercial customers.
For information on how ARC can handle your cargo and to contact us, please visit our website at: ARCshipping.com.
###