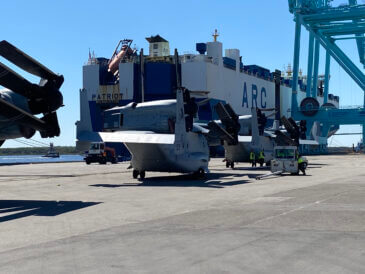 Jacksonville, FL – American Roll-on Roll-off Carrier (ARC) loaded six mission critical U.S. Marine Corps MV-22 Ospreys onto the M/V Patriot at Blount Island Terminal at the Port of Jacksonville, Florida for delivery to Rota, Spain. This was the M/V Patriot's first Osprey load, as the vessel was recently certified by Naval Air Systems Command (NAVAIR) to carry up to eight MV-22 Ospreys in support of US TRANSCOMs critical mission requirements.
Luis Amparo, the senior civilian at the Jacksonville Detachment of the Military Surface Deployment & Distribution Command (SDDC) said, "The operation could not have gone smoother – you can always count on the professional team at ARC to get the job done right."
The M/V Patriot is one of ARC's most capable vessels at 653 feet in length (199 meters), and one of a handful of commercial U.S.-flag ships capable and certified to carry V-22 Ospreys. With a 240 metric ton (MT) stern ramp, a main deck height of 21.3 feet (6.5 meters), and 165,000 square feet of militarily useful capacity, the M/V Patriot was the right ship to get the job done.
About ARC
ARC provides global logistics and shipping services to the U.S. Government. ARC and its U.S. affiliates own and manage the largest U.S.-flag roll-on roll-off (Ro-Ro) fleet. This includes providing American-owned, managed, and crewed Ro-Ro shipping and intermodal services committed to the requirements of the Department of Defense, other U.S. Government departments and agencies, and commercial customers.
For information on how ARC can handle your cargo and to contact us, please visit our website at: ARCshipping.com.
###