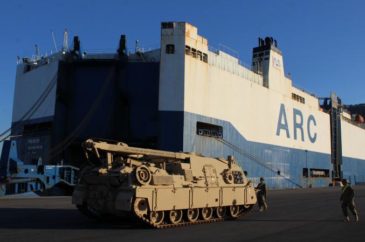 BILBAO, SPAIN – American Roll-on Roll-off Carrier's (ARC) M/V Freedom discharged U.S. Army cargo in Bilbao, Spain on 9 and 10 October to be used in Exercise Trident Juncture 2015 (TRJE15). A combination of tanks, tracked and wheeled vehicles, containers and associated equipment to be used by American forces during the exercise was loaded on 6 October in Bremerhaven, Germany.
TRJE15 is a North Atlantic Treaty Organization (NATO) exercise that is taking place from 28 September to 6 November in multiple locations across the Alliance including Italy, Portugal and Spain. Over 25,000 troops are expected to participate. The purpose of TRJE15 is to train and test the NATO Response Force, a high-readiness and technologically-advanced force capable of being deployed quickly for operations wherever needed.
ARC is the largest U.S.-flag Ro-Ro carrier, and the third largest U.S.-flag carrier operating in international trade. Founded in 1990, the company provides American-owned, managed, and crewed Ro-Ro shipping services committed to the requirements of the Department of Defense, other U.S. government departments and commercial customers. ARC headquarters are in New Jersey, and additional principal offices are in Germany and Washington, DC.
With a ten-day frequency, over 2.5 million square feet of commercial capacity, and nearly one million square feet of militarily useful high and heavy space, ARC's U.S.-flag Atlantic service includes base port calls in Baltimore, MD, Charleston, SC, Brunswick, GA, and Galveston, TX in the United States and Antwerp, Belgium, Bremerhaven, Germany, and Southampton, UK; all ports are within Emission Control Area (ECA) zones.
For information on how ARC can handle your cargo, please visit us at: www.arrcnet.com or send a message: contact@ARCshipping.com.