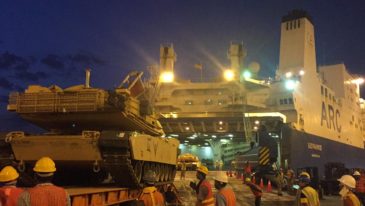 SHUAIBA, KUWAIT – American Roll-on Roll-off Carrier's (ARC) M/V Endurance discharged U.S. Army cargo in Kuwait on 30 October for the 2nd Armored Brigade Combat Team, 1st Infantry Division and additional cargo to be used as part of a reset for Army Prepositioned Stocks (APS) at Camp Arifjan.
Over 700 units of cargo were loaded on Endurance in Beaumont, Texas on 1 October for carriage to the Middle East. Endurance moved a mix of tanks, trucks, tractors, wreckers, fuel tanks, cargo handlers and various other items for the 2nd Armored Brigade and to replenish Army stocks in the Middle East.
Endurance is the largest and most militarily-useful, multi-purpose Ro-Ro ship in the U.S.-flag commercial fleet. She is a unique Ro-Ro vessel and is among the largest Ro-Ro vessels in the world at 860 feet in length. Endurance has nine decks that can be configured to carry over 260,000 square feet of high and heavy cargo such as CH-47 helicopters, MRAP and M- ATV armored trucks, tracked vehicles, construction equipment and generators; the vessel also has an additional 130,000 square feet of high-side vehicle space, and space for 200 containers. The Endurance's quarter ramp weight capacity of 320 tons exceeds that of any vessel in the U.S.-flag commercial fleet.
ARC is the largest U.S.-flag Ro-Ro carrier, and the third largest U.S.-flag carrier operating in international trade. Founded in 1990, the company provides American-owned, managed, and crewed Ro-Ro shipping services committed to the requirements of the Department of Defense, other U.S. government departments and commercial customers. ARC headquarters are in New Jersey, and additional principal offices are in Germany and Washington, DC.
With a ten-day frequency, over 2.5 million square feet of commercial capacity, and nearly one million square feet of militarily useful high and heavy space, ARC's U.S.-flag Atlantic service includes base port calls in Baltimore, MD, Charleston, SC, Brunswick, GA, and Galveston, TX in the United States and Antwerp, Belgium, Bremerhaven, Germany, and Southampton, UK;
all ports are within Emission Control Area (ECA) zones.
For information on how ARC can handle your cargo, please visit us at: arrcnet.com or send a message: contact@ARCshipping.com.