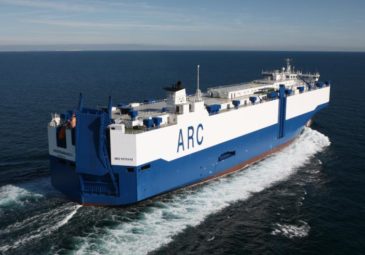 On Friday 24 January 2014, American Roll-on Roll-off Carrier, LLC (ARC), the largest U.S.-flag Ro-Ro carrier, delivered 29 M1A2 SEPv2 Abrams tanks and 33 M2A3 Bradley infantry fighting vehicles to the port of Bremerhaven, Germany. The Abrams tanks and Bradley fighting vehicles were moved from the Port of Bremerhaven via rail to Grafenwöhr, Germany, where they will become part of the Joint Multinational Training Command European Activity Set (JMTC EAS). ARC coordinated closely with the U.S. Military Surface Deployment & Distribution Command and U.S. Transportation Command to ensure the move was a success.
The move comes less than a year after what were thought to be the last main battle tanks in Germany returned to the United States. In April last year, the last 22 Abrams tanks left Germany, coinciding with a drawdown in U.S. forces that saw the inactivation of two brigades- the 170th and the 172nd. ARC moved the 22 tanks back to the United States, seemingly marking the end of an era in which tanks had been a mainstay of the U.S. Military's footprint in Germany dating back World War II.
The M/V Independence II, which carried the vehicles from Texas to Germany, operates in ARC's 5-ship Atlantic liner service. The service includes base port calls in Baltimore, MD, Charleston, SC, Brunswick, GA, and Galveston, TX in the United States and Antwerp, Belgium, Bremerhaven, Germany, and Southampton, UK. With a 10-day frequency, over 2.5 million square feet of commercial capacity, and nearly 1 million square feet of militarily useful high and heavy space, the ARC U.S.-flag Atlantic service is ideally suited for commercial, military and project cargoes.
For additional information, please contact Chris Heibel at cheibel@amslgroup.com