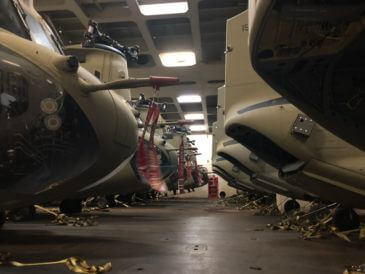 Rotterdam, the Netherlands – M/V Endurance discharged 61 helicopters and over 1,000 pieces of rolling stock and other cargo over the course of two days in Rotterdam in support of Operation Atlantic Resolve.
The 4th Combat Aviation Brigade (CAB) of the 4th Infantry Division deployed from the United States to Europe as the next rotation unit for Atlantic Resolve. The discharge was organized by the 598th Transportation Brigade. The loading operation at the port of Beaumont, Texas took place in early June. ARC has the largest fleet of American-flag ro-ro vessels and the Endurance is the most militarily-useful in the U.S.-flag international fleet.
The 4th CAB will set up operations in eight countries across central and Eastern Europe, as U.S. Army Europe (USAREUR) increases its presence across the region to help strengthen NATO's defense and deterrence measures. Operation Atlantic Resolve has been ongoing since 2014.
About ARC
ARC is the largest U.S.-flag roll-on roll-off (Ro-Ro) carrier, and the third largest U.S.-flag carrier operating in international trade. The company provides American-owned, managed, and crewed Ro-Ro shipping and intermodal services committed to the requirements of the Department of Defense, other U.S. government departments and agencies, and commercial customers.
For information on how ARC can handle your cargo, please visit us at: ARCshipping.com or send a message: contact form. For media inquiries, please contact Charles Diorio at (201) 571-0450 or cdiorio@ARCshipping.com.