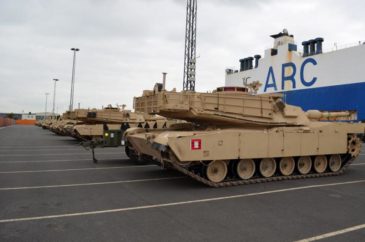 24 September 2014 BREMERHAVEN, Germany — American Roll-on/Roll-off Carrier (ARC) discharged more than 370 tanks, mechanized vehicles and other heavy military equipment from the 1st Brigade Combat Team, 1st Cavalry Division, which is in Europe in support of Operations Atlantic Resolve and Combined Resolve III.
M/V Courage's discharge operations were conducted at the Kaiserhafen quay at the port of Bremerhaven in conjunction with the Army's 950th Transportation Company. The vehicles and equipment were later taken from staging areas and loaded onto rail cars destined for Estonia, Germany, Latvia, Lithuania or Poland.
"The units from 1st Cavalry Division are in the Baltics and Poland to continue the U.S. Army's land force assurance training and to enhance multinational interoperability, strengthen relationships, and demonstrate the United States' commitment to NATO Allies," said Navy Capt. Greg Hicks, U.S. European Command spokesman in an Army press release.
ARC is the largest U.S.-flag Ro-Ro carrier, and the third largest U.S.-flag carrier operating in international trade. With a ten-day frequency, over 2.5 million square feet of commercial capacity, and nearly one million square feet of militarily useful high and heavy space, ARC's U.S.-flag Atlantic service includes base port calls in Baltimore, MD, Charleston, SC, Brunswick, GA, and Galveston, TX in the United States and Antwerp, Belgium, Bremerhaven, Germany, and Southampton, UK.
For information on how ARC can handle your cargo, please visit us at: arrcnet.com or send a message: contact@ARCshipping.com.