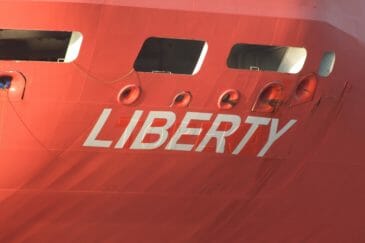 CHARLESTON, SC – In a ceremony to be held Friday in the Port of Charleston, American Roll-on Roll-off Carrier (ARC) will christen the M/V Liberty, welcoming one of the most versatile and militarily-useful ships to the U.S.-flag commercial fleet.
U.S. Department of Transportation Secretary Elaine L. Chao will deliver the keynote address at the M/V Liberty ship naming ceremony. Secretary Chao will also be joined by several distinguished guests, including the First Lady of South Carolina Peggy McMaster as the ship's sponsor; U.S. Transportation Command Deputy Commander Lt. General Stephen Lyons; South Carolina Ports Authority President and CEO James Newsome; and Seafarers International Union of North America, AFL-CIO President Michael Sacco.
Formerly the M/V Topeka, Liberty was re-flagged to American registry on January 31 as the eighth Ro-Ro vessel in ARC's fleet. The reflag was conducted by the Coast Guard in the port of Bremerhaven, Germany. The vessel is enrolled in the Maritime Security Program (MSP), the bedrock Congressional maritime readiness program, and the Voluntary Intermodal Sealift Agreement (VISA). Consistent with past practice to name ARC ships after American values, she was renamed M/V Liberty, taking her place in the ARC fleet alongside Patriot, Endurance, Freedom, Honor, Resolve, Integrity, and Independence II.
M/V Liberty is 199.99m long with a beam of 32.26m. The stern opening is 15.2m wide and 5.2m high, with a stern ramp rated for cargo up to 237.4 metric tons. The vessel is among the most capable and militarily-useful vessels in the U.S.-flag commercial fleet, able to carry tracked vehicles, helicopters, trucks and other military and high and heavy project cargoes.
ARC is the largest U.S.-flag Ro-Ro carrier, and the third largest U.S.-flag carrier operating in international trade. Founded in 1990, the company provides American-owned, managed, and crewed Ro-Ro shipping services committed to the requirements of the Department of Defense, other U.S. government departments and agencies, and commercial customers. ARC headquarters are in New Jersey, with an additional principal office in Germany.
For information on how ARC can handle your cargo, please visit us at: ARCshipping.com or send a message: contact@ARCshipping.com. For media inquiries, please contact Charles Diorio at (201) 571-0450 or cdiorio@ARCshipping.com.