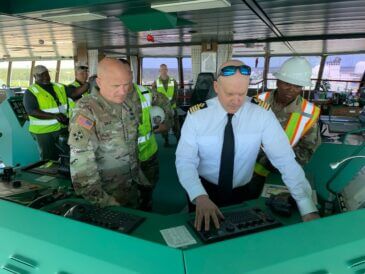 Charleston, South Carolina – American Roll-On Roll-Off Carrier (ARC) hosted the commander of the United States Army Materiel Command (AMC), General Edward M. Daly onboard M/V Patriot at TC Dock, Joint Base Charleston, South Carolina. The active vessel operation involved the upload of 79 pieces of military equipment in support of ongoing operations in Europe.
The tour was led by Captain Kiah Pinto and Chief Mate Troy Baker from the vessel and Chris Heibel and Ameed Micko from ARC shoreside leadership. Captain Pinto stated, "What a fun tour! The General was really engaging and impressed with the capabilities of M/V Patriot. It is personally very rewarding to help support our Military's efforts to bolster security for our European allies."
M/V Patriot is one of the most capable roll-on roll-off ships in the U.S.-flag fleet with an overall length of 653 ft (199 meters) and is one of only a handful of U.S.-flag Ro-Ro ships certified to carry V-22s and CH-47 helicopters in sealift configuration. The vessel has a stern ramp rated to carry loads weighing up to 240 metric tons (MT), a main deck maximum height of 21.32 ft (6.5 meters), and 165,121 square feet of militarily useful capacity.
About ARC
ARC provides Government Services including global logistics and shipping services. ARC and its U.S. affiliates own and manage the largest U.S.-flag roll-on roll-off (Ro-Ro) fleet. This includes providing American-owned, managed, and crewed Ro-Ro shipping and intermodal services committed to the requirements of the Department of Defense, other U.S. Government departments and agencies, and commercial customers.
For information on how ARC can handle your cargo and to contact us, please visit our website at: ARCshipping.com.
###