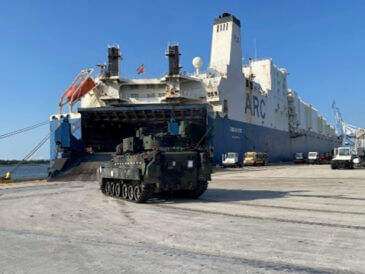 TC Dock, Charleston SC – American Roll-On Roll-Off Carrier's (ARC) M/V Endurance recently moved over 1,000 pieces of military equipment to support the deployment of the 2nd Armored Brigade Combat Team, 3rd Infantry Division. The Spartan Brigade is deploying from their home station at Fort Stewart, Georgia to Europe to participate in NATO's Operation Atlantic Resolve. The Military Surface Deployment & Distribution Command (SDDC) 842nd Transportation Battalion loaded the Endurance in the Port of Charleston, South Carolina.
During the loadout, ARC hosted a vessel tour for the Commanding General of SDDC, MG Gavin Lawrence, and leaders from the 2ABCT. Chief Mate of the vessel Dean Lynch stated, "this move highlights ARC's unwavering commitment to the U.S. Military's deployment objectives and the unparalleled capacity of Endurance and her value as a strategic asset."
ARC's M/V Endurance is one of the largest, most capable commercial vessels in the global fleet with a 320-metric ton stern ramp, a main deck height of 20 feet (6.25 meters), and 262,252 square feet of militarily useful capacity. She can carry V-22s and CH-47s in sealift configuration, allowing the highest readiness posture immediately upon discharge.
About ARC
ARC provides Government Services including global logistics and shipping services. ARC and its U.S. affiliates own and manage the largest U.S.-flag Roll-On Roll-Off (Ro-Ro) fleet. This includes providing American-owned, managed, and crewed Ro-Ro shipping and intermodal services committed to the requirements of the Department of Defense, other U.S. Government departments and agencies, and commercial customers.
For information on how ARC can handle your cargo and to contact us, please visit our website at: ARCshipping.com.
###