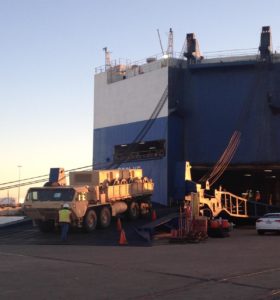 BEAUMONT, TX – The U.S. Army's 842nd Transportation Battalion, 597th Transportation Brigade loaded a Patriot Missile Battery on board ARC's M/V Resolve on October 31. The missile battery was discharged in Iskenderun, Turkey on November 20 in support of ongoing NATO operations in the region.

According to the NATO website, six Patriot missile batteries are now operating under NATO command and control in southern Turkey. The NATO Alliance deployed these assets in order to augment Turkey's air defense capabilities to defend the population and territory of Turkey. This deployment is defensive only and represents a concrete demonstration of Alliance solidarity and resolve.
ARC is the largest U.S.-flag Ro-Ro carrier, and the third largest U.S.-flag carrier operating in international trade. Founded in 1990, the company provides American-owned, managed, and crewed Ro-Ro shipping services committed to the requirements of the Department of Defense, other U.S. government departments and commercial customers. ARC headquarters are in New Jersey, and additional principal offices are in Germany and Washington, DC.
With a ten-day frequency, over 2.5 million square feet of commercial capacity, and nearly one million square feet of militarily useful high and heavy space, ARC's U.S.-flag Atlantic service includes base port calls in Baltimore, MD, Charleston, SC, Brunswick, GA, and Galveston, TX in the United States and Antwerp, Belgium, Bremerhaven, Germany, and Southampton, UK; all ports are within ECA zones.
For information on how ARC can handle your cargo, please visit us at: arrcnet.com or send a message: contact@ARCshipping.com.