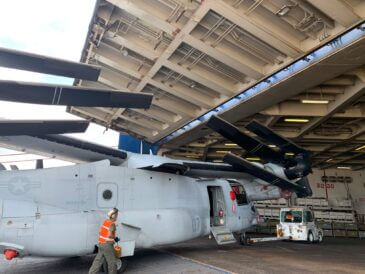 Jacksonville, FL – American Roll-On Roll-Off Carrier Group Inc. (ARC) loaded three mission-critical U.S. Marine Corps MV-22 Ospreys onto the M/V Endurance at Blount Island Terminal at the Port of Jacksonville, Florida.
Endurance will transport the Ospreys to Rota, Spain for discharge to support ongoing global operations.
"Military unit personnel and the ship's crew all did a great job quickly loading these impressive pieces of equipment" said Chris Heibel, ARC's Head of Commercial. Endurance is one of the largest Roll-on Roll-off (Ro-Ro) ships in the world with an overall length of 868 feet (264 meters) and is one of only a handful of U.S.-flag Ro-Ro ships capable of and certified to carry V-22s. The vessel has a stern ramp capable of carrying loads weighing up to 320 metric tons (MT), a main deck maximum height of 20.50 feet (6.25 meters), and 262,000 square feet of militarily useful capacity.
About ARC
ARC provides global logistics and shipping services to the U.S. Government. ARC and its U.S. affiliates own and manage the largest U.S.-flag roll-on roll-off (Ro-Ro) fleet. This includes providing American-owned, managed, and crewed Ro-Ro shipping and intermodal services committed to the requirements of the Department of Defense, other U.S. Government departments and agencies, and commercial customers.
For information on how ARC can handle your cargo, please visit us at: ARCshipping.com or send a message: contact form. For media inquiries, please send an email to media@ARCshipping.com.
###