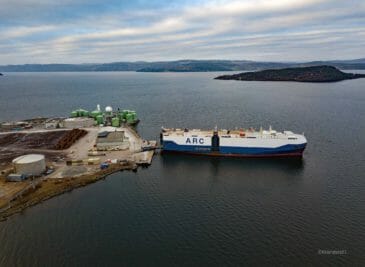 Fredrikstad, Norway – American Roll-on Roll-off Carrier's M/Vs Resolve and Independence II loaded military rolling stock and other cargo at the Norwegian ports of Fredrikstad and Fiborgtangen in support of Operation Trident Juncture.
M/V Independence II moved nearly 200 pieces of Army equipment from both ports in Norway to Germany. M/V Resolve moved over 350 pieces of Marine Corps rolling stock and containers from the port of Fiborgtangen to the United States.
NATO's Operation Trident Juncture brought together 40,000 participants, 130 aircraft and 70 vessels from more than 30 nations. In September, ARC carried to Norway this same military equipment used in the live exercise portion of Trident Juncture from the United States and Germany. ARC now completes the exercise cycle by returning the military equipment back to their home units.
About ARC
ARC is the largest U.S.-flag roll-on roll-off (Ro-Ro) carrier, and the third largest U.S.-flag carrier operating in international trade. The company provides American-owned, managed, and crewed Ro-Ro shipping and intermodal services committed to the requirements of the Department of Defense, other U.S. government departments and agencies, and commercial customers.
###