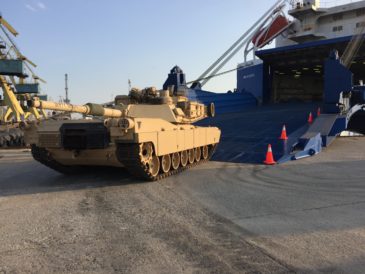 Constanta, Romania – American Roll-on Roll-off Carrier's (ARC) M/V Endurance loaded military cargo in Constanta, Romania used as part of the "Saber Guardian" multinational military exercise involving approximately 2,700 personnel from 11 nations.
Endurance moved a mix of tracked units, trucks, trailers, containers, and various other items the Army used to take part in Saber Guardian.
Exercise Saber Guardian 2016 was held July 27 – August 7, 2016 at the Romanian Land Force Combat Training Center (RLF-CTC) in Cincu, Romania. This exercise is an annual multinational exercise that historically rotates among Romania, Bulgaria and Ukraine.
About ARC
ARC is the largest U.S.-flag roll-on roll-off (Ro-Ro) carrier, and the third largest U.S.-flag carrier operating in international trade. The company provides American-owned, managed, and crewed Ro-Ro shipping and intermodal services committed to the requirements of the Department of Defense, other U.S. government departments and agencies, and commercial customers.
For information on how ARC can handle your cargo, please visit us at: ARCshipping.com or send a message: contact form. For media inquiries, please contact Charles Diorio at (201) 571-0450 or cdiorio@ARCshipping.com.