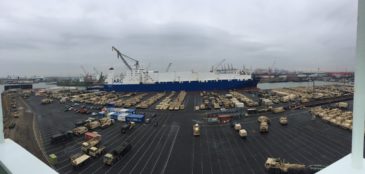 Bremerhaven, Germany – Three roll-on roll-off vessels from American Roll-on Roll-off Carrier (ARC) Group's U.S.-flag fleet – M/V Resolve, M/V Freedom, and M/V Endurance – discharged over 400,000 square feet of military rolling stock and other cargo over the course of five days in Bremerhaven in support of Operation Atlantic Resolve.
"[The Army] will unload and move nearly 2,400 pieces of equipment from Bremerhaven to training sites throughout Europe," said U.S. Army Maj. Gen. Duane Gamble, 21st Theater Sustainment Command commander. "That equipment includes tanks, armored fighting vehicles, artillery, trucks, and containers – everything needed to equip and maintain the brigade."
The 3rd Armored Brigade Combat Team (ABCT) of the 4th Infantry Division deployed from the United States to Europe. The Bremerhaven discharge started on Friday, 6 Jan, finished on Monday, 9 Jan, and was organized by the 598th Transportation Brigade. The loading operation at the port of Beaumont, Texas in December was coordinated by the Army's 597th Transportation Brigade. ARC has the largest fleet of American-flag ro-ro vessels and the three vessels selected are the most militarily-useful (by square footage) in the U.S.-flag international fleet.
The 3rd ABCT will set up operations in eight countries across central and Eastern Europe, as U.S. Army Europe (USAREUR) increases its presence across the region to help strengthen NATO's defense and deterrence measures. Operation Atlantic Resolve has been ongoing since 2014.
About ARC
ARC is the largest U.S.-flag roll-on roll-off (Ro-Ro) carrier, and the third largest U.S.-flag carrier operating in international trade. The company provides American-owned, managed, and crewed Ro-Ro shipping and intermodal services committed to the requirements of the Department of Defense, other U.S. government departments and agencies, and commercial customers.
For information on how ARC can handle your cargo, please visit us at: ARCshipping.com or send a message: contact@ARCshipping.com. For media inquiries, please contact Charles Diorio at (201) 571-0450 or cdiorio@ARCshipping.com.