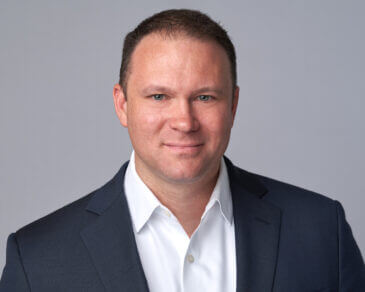 American Roll-On Roll-Off Carrier Group (ARC) President & CEO Eric P. Ebeling will be presented with the United Seamen's Service (USS) Admiral of the Ocean Sea Award (AOTOS) at the 53rd annual awards ceremony to be held in New York City on Friday, October 28, 2022.
The AOTOS award is recognized as the most prestigious award in the U.S. shipping industry and is given in recognition of individuals and organizations who have shown outstanding support for American seafarers and the maritime industry of the United States. The traditional silver statuette of Christopher Columbus – the first Admiral of the Ocean Sea – will be accepted by three honorees at the maritime industry gala dinner and dance at the Sheraton New York Times Square hotel.
The other 2022 AOTOS award recipients are Edward W. Aldridge, President of CMA-CGM North America and American President Lines (APL), and Harold J. Daggett, President of the International Longshoreman's Association (ILA). The AOTOS award recipients will share the evening with a group of American seafarers who will be honored for acts of bravery while engaged in rescue operations at sea during the past year.
Eric Ebeling heads the largest U.S. flag Ro-Ro carrier operating in the U.S.-international trades.  His responsibilities include oversight of P&L, strategy, commercial, operations and government relations. The company's U.S.-flag Ro-Ro vessels are enrolled in the Maritime Security Program and Voluntary Intermodal Sealift Agreement with the Maritime Administration and U. S. Transportation Command. For more than 30 years, ARC has provided transatlantic liner service between the U.S. and North Europe, as well as services in the Mediterranean, Middle East, South America, and Asia trades. The company also provides other government services including logistics and intermodal services.
Mr. Ebeling has held positions within ARC that include Chief Operating Officer; Vice President Sales and Marketing; Vice President and General Manager, Atlantic Trade; Director of Government Relations; General Manager in Europe; and Operations Manager. He joined the company in 2003.
Prior to joining the company, Mr. Ebeling received a law degree from The American University Washington School of Law, a master's degree from the American University School of International Studies and a B.A. from Bowdoin College.  He has received several industry honors for his leadership at ARC. Mr. Ebeling is a member of the Maryland State Bar Association and is on the Board of Directors of the National Defense Transportation Association (NDTA).
Eric Ebeling is a legacy recipient of AOTOS. His father, Raymond P. Ebeling, was a recipient in 2004.
Proceeds from the AOTOS event benefit USS community services abroad for the U.S. merchant marine, seafarers of all nations, and U.S. government and military overseas. For AOTOS 2022, Michael Sacco, President of the Seafarers International Union, is Dinner Chairman. F. Anthony Naccarato of American Maritime Officers Service and Joseph J. Cox, Cox Maritime LLC, will be serving as National Committee Co-Chairmen. Edward Morgan is President and Roger Korner is Executive Director of USS.
About ARC
ARC provides Government Services including global logistics and shipping services. ARC and its U.S. affiliates own and manage the largest U.S.-flag roll-on roll-off (Ro-Ro) fleet. This includes providing American-owned, managed, and crewed Ro-Ro shipping and intermodal services committed to the requirements of the Department of Defense, other U.S. Government departments and agencies, and commercial customers.
For information on how ARC can handle your cargo and to contact us, please visit our website at: ARCshipping.com.
###