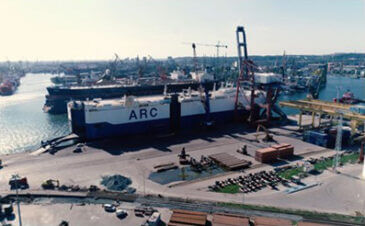 Parsippany, New Jersey – American Roll-On Roll-Off Carrier Group Inc. (ARC) announced today that it has been selected as the contract awardee for the U.S. Transportation Command (USTRANSCOM) Stevedoring and Related Terminal Services (S&RTS) Contract for the Port of Gdansk, Poland. This is a five-year contract with a start date of 28 May 2021.
ARC is also a longtime provider for USTRANSCOM in Belgium and Germany and has played an essential support role providing reception/disposition, staging, tallying, loading/discharging, labor resourcing, and MHE in support of NATO force rotations under Operation Atlantic Resolve and ongoing sustainment operations for United States European Command (EUCOM).
"ARC has three decades of experience supporting deployments and redeployments throughout the EUCOM AOR, and we look forward to supporting future operations through the port of Gdansk" said Sandy Santianna, ARC Vice President of Customer Service, Pricing & Contracts.
About ARC
ARC provides global logistics and shipping services to the U.S. Government. ARC and its U.S. affiliates own and manage the largest U.S.-flag roll-on roll-off (Ro-Ro) fleet. This includes providing American-owned, managed, and crewed Ro-Ro shipping and intermodal services committed to the requirements of the Department of Defense, other U.S. Government departments and agencies, and commercial customers.
For information on how ARC can handle your cargo and to contact us, please visit our website at: ARCshipping.com.
###